Garnier Fructis products claim to use "Reinforced Active Fruit Concentrates" to make your hair stronger and shinier. Well, with a head full of thick curls, I have been coating my hair with a cocktail of their products for years. In fact I have been coating my hair with various brand name products, since I learned about the wonders of frizz-taming products. Yet, the more I used them the effects stopped working as well and I was left with greasy heavy looking hair, and a really itchy head. Since the products aren't working for me all that well and the amount of energy used to make these toxic hair products and all the packaging has got to be unsustainable I decided to try something new.
I have one upped Garnier and made my own fruit infused hair product. Tonight I used my hairspray made of 1/2 lemon, 1/2 orange, 2 cups water and 1 ounce rubbing alcohol (optional). All you do is chop up the fruit and dump them into the boiling water and reduce to half. If you want to store the hairspray (up to two weeks) outside of the refrigerator add an ounce of rubbing alcohol when the hair spray is done boiling. Here is my all natural (not from concentrate) fruit hairspray:
As my hair is vicious and most days has a mind of its own I decided to add in a hair gel as well. This one was even easier to make than the hair spray. All I did was take some hot water from the tap and add in one teaspoon of unflavored gelatin (right by the jello at the grocery store). This hair gel must be stored in the refrigerator. Here is the resulting gel:
Well I bet you are all wondering the results...aaannnndddd...THEY WORKED! My hair had the same amount of curl and hold as when I use the other products! I expected it to be too sticky from the lemon/orange but its not sticky at all. And I thought the gel would be too chunky/thick to work into my hair evenly, but I just rubbed it on my palms for a second before applying to my hair and it worked perfectly. Best of all my hair doesn't feel as thick, heavy, and greasy! To sum it all up this project turned out to be a grrrrrreat success! Here is a picture of my non frizzy non greasy curls:
Many thanks to
Long Locks
for the hair recipes. I can't wait to find/try out different recipes! On a final note this hair spray may not uphold such fashion staples as the mow-hawk and beehive. But this is what you (and the Earth) may turn out looking like if you continue to spray, and slather, noxious toxins on your head from hair products. Enjoy: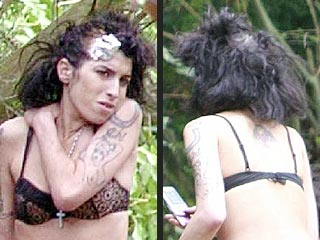 P.S. If you want to read more about the toxins in hair care products (and skin and cosmetics) visit
Natural Skincare Authority

What hair products do you use? Have you ever looked at the ingredients?